About Us
Siam 49 Thai Restaurant is located on Port Road, Hindmarsh.
Our menu offers a wide range of Thai specialties such as Stir Fried with Garlic & Pepper, Yellow Curry, Crispy Duck and many more.
You can order online from us by clicking the ORDER ONLINE button and we will deliver our delicious food directly to your front door.
We look forward to serving you.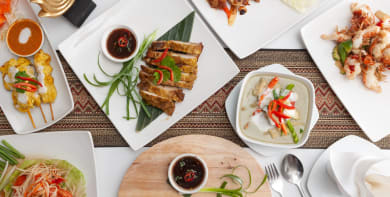 Reviews
Hannah
"Siam 49 has levelled up. Best roti, best peanut dipping sauce, incredibly generous serves, spot on."
2/10/2020
Jennifer
"Awesome, awesome, awesome!"
30/09/2020
Twee
"Wonderful, thank you! Will order again definitely."
26/09/2020
David
"Absolutely delicious"
24/09/2020
Menu
Contact Us
Find Us
308 Port Road, Hindmarsh, 5007
Opening Hours
Tuesday
11:00 AM - 9:30 PM
Wednesday
11:00 AM - 9:30 PM
Thursday
11:00 AM - 9:30 PM
Friday
11:00 AM - 9:30 PM
Saturday
5:00 PM - 9:30 PM
Please note, delivery times may vary.
We deliver to
5000 Adelaide, 5006 North Adelaide, 5007 Bowden, 5007 Brompton, 5007 Hindmarsh, 5007 Welland, 5007 West Hindmarsh, 5008 Croydon, 5008 Croydon Park, 5008 Devon Park, 5008 Dudley Park, 5008 Renown Park, 5008 Ridleyton, 5008 West Croydon, 5009 Allenby Gardens, 5009 Beverley, 5009 Kilkenny, 5010 Angle Park, 5010 Ferryden Park, 5010 Regency Park, 5011 St Clair, 5011 Woodville, 5011 Woodville Park, 5011 Woodville South, 5011 Woodville West, 5012 Athol Park, 5012 Mansfield Park, 5012 Woodville Gardens, 5012 Woodville North, 5013 Ottoway, 5013 Pennington, 5013 Rosewater, 5013 Wingfield, 5014 Albert Park, 5014 Alberton, 5014 Cheltenham, 5014 Hendon, 5014 Queenstown, 5014 Royal Park, 5015 Port Adelaide, 5021 West Lakes, 5022 Grange, 5022 Henley Beach, 5023 Findon, 5023 Seaton, 5024 Fulham, 5024 Fulham Gardens, 5025 Flinders Park, 5025 Kidman Park, 5031 Mile End, 5031 Mile End South, 5031 Thebarton, 5031 Torrensville, 5032 Brooklyn Park, 5032 Lockleys, 5032 Underdale, 5033 Cowandilla, 5033 Hilton, 5033 Marleston, 5033 Richmond, 5033 West Richmond, 5034 Wayville, 5035 Ashford, 5035 Everard Park, 5035 Forestville, 5035 Keswick, 5035 Keswick Terminal, 5037 Glandore, 5037 Kurralta Park, 5037 Netley, 5069 Hackney, 5069 St Peters, 5081 Collinswood, 5081 Gilberton, 5081 Medindie, 5081 Medindie Gardens, 5081 Walkerville, 5082 Fitzroy, 5082 Ovingham, 5082 Prospect, 5082 Thorngate, 5083 Nailsworth, 5083 Sefton Park, 5084 Blair Athol, 5084 Kilburn, 5085 Enfield, 5094 Dry Creek, 5094 Gepps Cross, 5950 Adelaide Airport